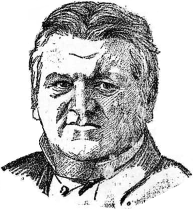 Samuel Pope
1826–1901
Hafod y Bryn, Llanbedr
Image courtesy of The Libarary and Museum of Freemasonry
---
| | | |
| --- | --- | --- |
| 1882 | | shareholder (one share) Oakeley Slate Quarries Company Limited |
| 1884–1889 | | operator Croesor slate quarry |
| 1888 | | company director Anglesey Limestone Co Ltd |
| 1896 | | owner Hafotty (with H J Wright) |
| 1896 | | owner Wnion (formerly Tynllwyn) gold mine |
In the period 1881–1895 Pope held numerous Crown Grants for gold at Llanaber, Llanelltyd and Llanfachreth and one at Llandwywe.
In January 1891 Pope agreed to purchase 3025 shares in the Dyffryn Mining Co. Ltd from Francis Edward Roberts (solicitor) and Charles Berry Phillips and 15 other vendors. [Agreement 5th January 1891]
Pope was a QC [PRO BT31/4275/27734] and a senior freemason [Clements 2005] (his name appears on the foundation stone of the masonic hall in Barmouth). According to Glenys Thomas [2004] he built Riverside cottages in Llanbedr. Among the cases he heard as a JP was the action brought by the Highways Board against the Merionethshire Mining Company in 1887 for compensation for damage caused to roads by the cartage of manganese ore [Cambrian News 7/1/1887 p. 7, 7/10/1887 p. 7; North Wales Chronicle 29/10/1887 p. 8].
As well as the association between the legal profession and freemasonry, Pope's masonic activities may be significant in a mining context. For a discussion on freemasonry in mining in the nineteenth century see Burt [2001].
Pope's niece, whom he adopted as his daughter, married H J Wright in 1890 [QMJ Vol. VII pp. 388–9].