Cell Fawr
---
Alternative name
Cel Fawr
Location
SH615177 (approximate boundary with Hafotty mine) – SH615168 (approximate boundary with Cell Fechan mine). (Area map showing location.)
Parish
Llanaber
Owners
1891–1894 Dyffryn Mining Co. Ltd
Agents
Production and Employment


(tons)
Manpower
underground surface
1891
652
6
2
1892
302
4
4
Total
954

Remains
An intermittent series of shallow depressions and grassed-over waste tips, continuing northwards as Hafotty mine and southwards as Cell Fechan mine. Small underground working approximately 2 m x 4 m at SH616172 with pack walls and wooden props. Worked out chamber at SH615169. (March 2002)
Access
Most remains are close to, and accessible from, Public Rights of Way.
---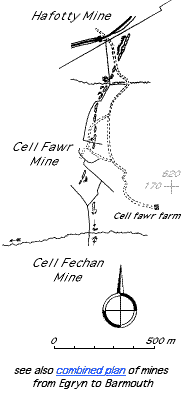 Working was probably limited by the poor access to this part of the outcrop and the instability of the company [Down 1980: 43].

Photograph © Crown Copyright: RCAHMW
Workings

Aerial view looking north. The remains of the workings are the clearly visible trenches running up the centre of the picture.

In the foreground (from bottom to aproximately centre of picture) are the Cell Fawr workings. Hafotty continues northwards from these and in the distance beyond can be seen the Egryn workings.

Workings

Looking south from SH616186 across part of Cell Fawr workings.

Note tips to right of workings and on skyline.