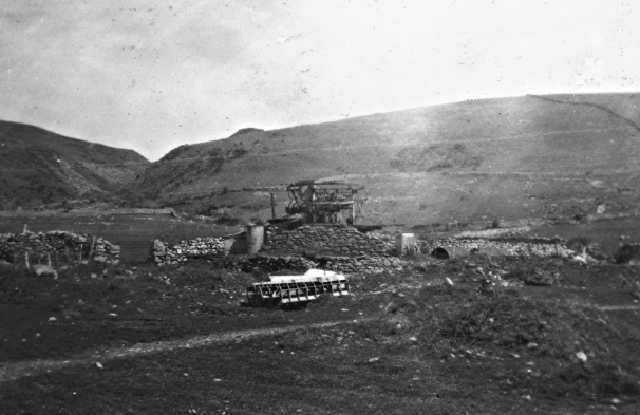 Photograph © Executors of the late Moses Griffith
Ropeway terminus
General view of the lower ropeway terminus at SH59652031. The lack of visible cart or lorry tracks in the vicinity of the terminus suggests that the ropeway was no longer in use at the time of the photograph.
To the left of the terminus there appears to be a hut with a cylindrical tank in front of it. There is another small hut (a privy?) to the right of the terminus.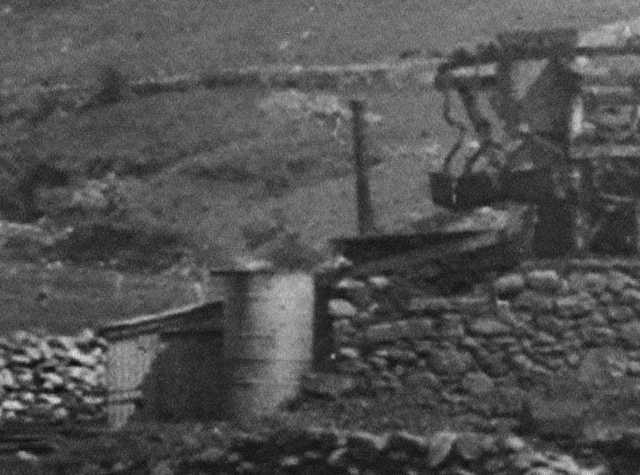 Photograph © Executors of the late Moses Griffith
Detail from main photograph: It is possible that the shed contained an oil engine used to power (or at least start) the aerial ropeway. If this is the case the tank might have been part of the cooling system.
Photograph taken by Moses Griffith sometime between 1924 and 1941 when he was the tenant at Egryn.
| | | |
| --- | --- | --- |
| | | There is now no trace of the ropeway terminus as can be seen from this photograph. |
---