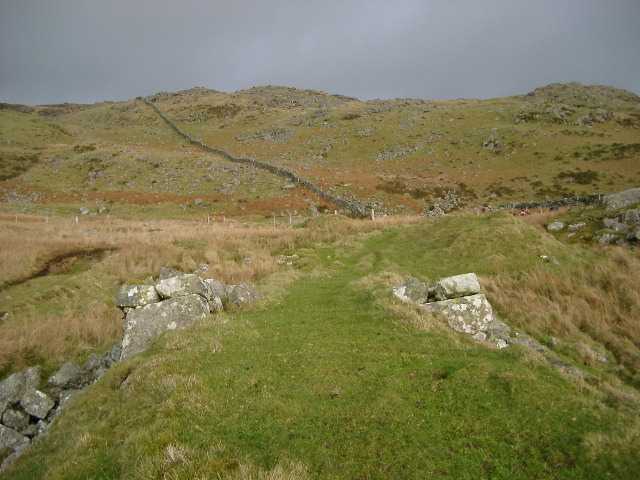 Head of exit incline
The head of the incline looking back towards the previous viewpoint and showing detail of stonework. The incline slope begins just above the bottom of the picture.
There is no clear indication as to the nature of the winding or brake gear. There does not seem to be sufficient remaining stonework in the vicinity to suggest an over-incline drum house, and there is no suggestion of an under-track wheel pit. It is possible that there was an over-track sheave or drum supported by a wooden framework erected on the abutments. Williams [2003] says there were remains of track, rope and wooden headgear on the incline in the 1950s.
Imediately beyond the right hand abutment is a waste tip. Its 'finger' shape suggests there was a tramway on it.
In the distance beyond the right-hand abutment can be seen a small ruined stone structure which is close to the cutting that carried the tramway from the level marked on the 1887 6" map [OS 1st edn: XXXVI NW] at SH617178 to the head of the incline. Its function is unclear although it may have been a checker's shelter. (There is no sign of a pit for a weighbridge.) There are remains of a larger building close by (not visible in photograph). The cutting usually carries a small stream which rises in its bed and which may be drainage from the mine.
---